Top 30 queer icons in the last 50 years
|
Updated on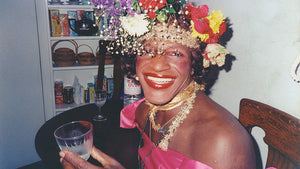 In the last half-century, marked by an unending struggle for rights and acceptance, a spectrum of queer individuals have stood steadfast, radiating light - a beacon of hope and pride for the LGBTQ+ community. Their unyielding resilience, audacious self-expression, and immense contributions to society have played a pivotal role in fostering change and acceptance. They are the queer icons who have, with their influence, stirred the collective consciousness and driven the march of progress in the face of adversity. 
As we embark on this journey of recognition and celebration, who are these queer icons that have shaped the past 50 years? What tales of courage and resilience do they tell? What impact have they had on the LGBTQ+ community and society at large? Join us as we unveil the top 30 queer icons from the last five decades - individuals who have, through their words and actions, pushed the boundaries and changed our world for the better.
Article continues below
---
---
What is a Queer Icon? 
Let's define 'queer icon' before recognizing key LGBTQ+ historical figures. The term is flexible and subjective. Basically, a queer icon is a person from the LGBTQ+ community or an ally who has greatly advanced queer rights, representation, and acceptance. They stood strong for queer community, despite societal norms and prejudices.
These icons are not simply figureheads. They could be any of the following: 
Artists have often used their creative platforms to challenge heteronormative narratives, explore queer identities, and give voice to the LGBTQ+ community.
Politicians, through their legislative efforts and political advocacy, have been instrumental in pushing for legal recognition and protection of queer rights.
Scientists have helped to deconstruct harmful stereotypes and prejudices, providing empirical evidence to support the realities of queer identities.
Activists have dedicated their lives to fighting for equality and acceptance, often putting themselves at risk to push for change.
Authors and athletes have shown that queer individuals can excel and make significant contributions in all fields, breaking down barriers and challenging stereotypes.
Article continues below
---
---
What is the significance of queer icons to the LGBTQ+ community?
The significance of queer icons to the LGBTQ+ community extends far beyond their status as celebrated figures. As embodiments of strength, resilience, and bold authenticity, these icons serve as powerful beacons of hope, fostering a sense of belonging and inspiring generations of individuals in their pursuit of equality and acceptance. 
At the heart of their significance, these icons are often trailblazers, breaking societal norms and challenging the status quo. They publicly embrace their sexual orientation and gender identity, demonstrating to the world that it is not only acceptable, but entirely natural, to be different. In doing so, they help to dispel harmful stereotypes and misconceptions, thereby fostering a more inclusive society.
Who are the 30 most influential LGBTQ+ icons in the last 50 years?
As we venture back over the past five decades, it is crucial to acknowledge the myriad of LGBTQ+ figures who have left their indelible marks on history through their activism, artistry, and personal courage. This impressive list comprises some of the most influential queer icons of the last half-century, each contributing significantly to the visibility and acceptance of the LGBTQ+ community. 
1. Madonna 
Madonna, also known as "Queen of Pop" herself, rose to fame in the early 1980s and became a significant figure in pop culture. She stood out not only for her innovative music and bold image, but also for her staunch support for LGBTQ+ rights. 
Madonna, a straight woman, was unique in her embrace of the queer community from the start of her career. She included drag queens, gay men, and lesbian women in her music videos and spoke openly about her friendships with queer individuals. These were not superficial actions, but genuine recognitions of the queer community, making her one of the first mainstream artists to do this.
Article continues below
---
---
2. Harvey Milk (1930-1978)
Harvey Milk, the first openly gay elected official in the history of California, is a significant queer icon of the 1970s. He dedicated his life to championing for LGBTQ+ rights, giving a voice to the queer community and validating their struggle in mainstream political discourse. 
3. David Bowie (1947-2016)
David Bowie, with his flamboyant, gender-bending style, played a significant role in challenging and expanding society's understanding of gender and sexuality from the 1970s. His unabashed self-expression and fluid approach to gender were groundbreaking in mainstream pop culture. 
Article continues below
---
---
4. Marsha P. Johnson (1945-1992)
A leading figure in the Stonewall uprising, Marsha P. Johnson's activism extended well into the 1970s-1990s. As a transgender woman, Johnson fought tirelessly for trans rights, even co-founding the Street Transvestite Action Revolutionaries (STAR) to support homeless trans youth. 
5. Freddie Mercury (1946-1991)
Freddie Mercury, the lead vocalist of the rock band Queen, remains a beloved queer icon. His incredible talent, coupled with his unapologetic queerness, continues to inspire and resonate with the LGBTQ+ community. 
In 1987, four years before his death, Freddie was diagnosed with AIDS, a disease that disproportionately affected the queer community during the 1980s and 1990s. Despite his condition, Mercury continued to create music and perform, exhibiting the same passion and flamboyance he was known for. 
Article continues below
---
---
6. Angela Davis 
Angela Davis, a political activist and scholar, came out as a lesbian in the 1970s and has since been an outspoken advocate for LGBTQ+ rights. Her intersectional approach to activism highlighted the interconnected struggles of sexism, racism, and homophobia. 
7. Lady Gaga 
Lady Gaga is celebrated as a fervent advocate for the LGBTQ+ community. Her advocacy, nestled within her artistry, has positioned her as one of the most influential queer icons since her debut in 2008. A self-identified bisexual woman, Gaga has consistently utilised her platform to raise awareness about LGBTQ+ issues. Her 2011 album 'Born This Way' resonated with queer audiences worldwide, its title track becoming an anthem of self-acceptance and pride.
Article continues below
---
---
8. The OG Queer Eye cast 
The original cast of the hit reality TV show Queer Eye for the Straight Guy has had a profound impact on the representation of queer individuals in mainstream media when it first aired in 2003. Widely recognized as a cultural phenomenon, the five charismatic experts in fashion, grooming, interior design, culture, and cuisine - collectively known as the "Fab Five" - have indelibly influenced public perception on the LGBTQ+ community, pushing boundaries and challenging stereotypes. 
Carson Kressley, with his impeccable fashion sense and razor sharp wit, took on the role of the show's style expert. Ted Allen, a culinary connoisseur, reinforced the importance of a well-balanced lifestyle through diet. Kyan Douglas utilized his expertise in grooming to demonstrate the transformative power of self-care. Thom Filicia, the interior design guru, beautifully illustrated how a well-tailored space can improve quality of life. Last but certainly not least, Jai Rodriguez, the culture expert, offered invaluable insights into the importance of social interactions and personal growth. 
9. James Baldwin (1924-1987)
James Baldwin, an openly gay black writer, used his work to explore themes of sexuality and race. His groundbreaking novel "Giovanni's Room," published in the late 1950s, was one of the first novels to openly discuss homosexuality, and his influence continued to resonate throughout the decades beyond. 
Article continues below
---
---
10. Laverne Cox 
Laverne Cox, an American actress and LGBT activist, has been a trailblazer in bringing transgender issues to the mainstream. Transitioning in a time when trans rights were barely discussed, Cox rose to prominence with her role in the Netflix series Orange Is the New Black, becoming the first openly transgender person to be nominated for a Primetime Emmy Award in an acting category. 
11. Martina Navratilova 
One of the greatest tennis players of all time, Martina Navratilova, came out publicly in 1981. Despite facing backlash, she continued to excel in her sport, winning numerous Grand Slam titles, while simultaneously fighting for LGBTQ+ rights. 
Article continues below
---
---
12. Elliot Page 
Widely renowned for his nuanced performances in films such as 'Juno' and 'Inception', Elliot Page has been a force to be reckoned with in Hollywood since the early 2000s. Elliot Page came out as gay in 2014, and has since been an outspoken advocate for LGBTQ+ rights. In December 2020, Page publicly came out as transgender and non-binary, further solidifying his status as a queer icon. This announcement was met with widespread support, marking a significant moment in LGBTQ+ history and continuing to inspire countless individuals around the world. 
13. RuPaul Charles
RuPaul, a drag queen, actor, and recording artist, has made enormous strides in mainstreaming drag culture through the Emmy-winning reality competition show, RuPaul's Drag Race. His work has been instrumental in challenging and redefining societal norms surrounding gender and sexuality. 
Article continues below
---
---
14. Audre Lorde (1934-1992)
Audre Lorde, an openly lesbian black poet and feminist, used her work to address the injustices faced by marginalized groups. Her impactful writings and persistent activism earned her a substantial place in the canon of queer literature. 
15. Elton John 
Elton John, one of the most successful musicians of the 20th century, came out as bisexual in a 1976 interview with Rolling Stone. His openness about his sexuality and his continued advocacy for LGBTQ+ rights has solidified his status as a queer icon. 
Article continues below
---
---
16. Neil Patrick Harris 
Known for his role in 'How I Met Your Mother,' Neil Patrick Harris broke television stereotypes when he came out publicly in 2006. As an openly gay actor playing a straight character, he challenged societal expectations and became an inspiration for many in the LGBTQ+ community. 
17. Divine (1945-1988)
Divine, also known as Harris Glenn Milstead, was a trailblazer in the 1980s. Best known for his drag performances, Divine became an iconic figure within the queer community and beyond, breaking boundaries and challenging the status quo. As an actor, he rose to prominence through his collaborations with filmmaker John Waters, starring in cult classics such as 'Pink Flamingos' and 'Hairspray'. He played characters that were outrageous, flamboyant, and unapologetically queer, thus championing the LGBTQ+ cause through his work. 
Article continues below
---
---
18. Sylvester (1947-1988) 
Known as the 'Queen of Disco', Sylvester was an openly gay man who became an icon in the queer community for his unabashedly flamboyant persona and powerful music. He remains a symbol of liberation and self-expression. 
These individuals, through their actions, talents, and unabashed pride, have shaped the queer narrative in the 1980s and beyond. Their influence continues to inspire and empower LGBTQ+ individuals today.
19. Andy Warhol (1928-1987)
It would be remiss of us not to mention the indomitable Andy Warhol. Though his prominence began in the 1960s, Warhol's influence remained substantial even after his death, providing a significant source of inspiration and representation for the LGBTQ+ community. 
Warhol, known for his iconic pop-art and avant-garde movement, was openly gay at a time when it was exceedingly rare and risky to be so. He challenged societal norms and expectations, fearlessly expressing his queer identity through his art. 
Article continues below
---
---
20. George Michael 
Despite being outed in a scandalous manner in 1998, George Michael subsequently became an open advocate for LGBTQ+ rights. His music, filled with themes of sexual liberation and identity, continued to resonate with many in the queer community. 
21. Sir Ian McKellen 
Sir Ian McKellen, a celebrated actor renowned for his roles in 'The Lord of the Rings' and 'X-Men', came out in 1988 and has since been a tireless campaigner for LGBTQ+ rights. His advocacy efforts, particularly his work with Stonewall UK, have left an indelible mark on the fight for equality. 
Article continues below
---
---
22. Pedro Zamora 
Pedro Zamora, a cast member on 'The Real World: San Francisco', was one of the first openly gay men with AIDS to be portrayed in popular media. His candid discussions about his sexuality and health on national television brought visibility to the AIDS crisis and endeared him to audiences nationwide. 
23. Prince 
Prince, the enigmatic and fiercely independent musician who dominated the world stage in the 80s and 90s, shouldn't be overlooked as a significant queer icon, though his legacy is muddy at best. By challenging the traditional norms of gender and sexuality in his song lyrics, his stage performances, and his personal life, Prince paved the way for a more inclusive, androgynous representation in mainstream music. 
Article continues below
---
---
24. Larry Kramer (1935-2020) 
Larry Kramer was a pivotal figure in the 1980s, particularly for his advocacy work during the HIV/AIDS crisis. As a co-founder of the Gay Men's Health Crisis and later ACT UP, Kramer's activism and literary works have had profound impacts on the queer community and beyond. 
25. Boy George 
Boy George, the frontman of Culture Club, was one of the most recognisable faces in the 1980s. With his androgynous style and open discussions about his sexuality, Boy George pushed the boundaries of what was considered acceptable, bringing queer visibility into mainstream media. 
Article continues below
---
---
26. Troye Sivan 
South African-born Australian singer-songwriter Troye Sivan has been a beacon for young queer people worldwide since his public coming out on YouTube in 2013. His music often explores his experiences as a gay man, offering representation and validation to many LGBTQ+ youth. In 2018, Troye Sivan released his album 'Bloom' which features songs about his experiences as a gay man and has become a prominent LGBTQ+ advocate.
27. Hayley Kiyoko
Known affectionately as the 'Lesbian Jesus' by her devoted fans, Hayley Kiyoko is an unstoppable force in the realm of queer pop culture. Blazing her trail in the 2010s, Kiyoko's bold and unabashed representation of her own sexuality through her music has earned her a place amongst the most influential queer icons of the decade. Her insistence on singing openly about her experiences and relationships with women was seen as a game-changer in an industry where queerness is often concealed or ambiguously presented. 
Article continues below
---
---
28. Tim Cook 
As the CEO of one of the world's most influential companies, Tim Cook of Apple Inc., made history when he came out as gay in 2014. Being at the helm of such a powerful corporation, Cook's announcement sent a powerful message about the visibility and acceptance of queer individuals in the corporate world. 
29. Janelle Monáe
Breaking boundaries in more ways than one, Janelle Monáe has crafted an illustrious career in music, film, and fashion. An iconic artist whose work transcends genres, she is a beacon of queer representation in the 2010s. Initially seen as an enigmatic figure, Monáe's announcement of her pansexuality in 2018 became a significant moment in the LGBTQ+ movement, proving, in her own words, "I am a free-ass motherfucker." 
Article continues below
---
---
30. Anderson Cooper 
Anderson Cooper, an esteemed journalist and television personality, announced his homosexuality in 2012. As a respected figure in the media landscape, Cooper's announcement was significant in breaking down stereotypes and fostering a more accepting environment in the news industry. 
BONUS: 31. The New Queer Eye Cast 
In 2018, five new faces stepped into the limelight as the new cast of Queer Eye: Antoni Porowski, Tan France, Karamo Brown, Bobby Berk, and Jonathan Van Ness. Each member brings a unique flavour to the show. Antoni Porowski, the food and wine expert, inspires people to find joy in cooking and mindful eating. Tan France, the fashion guru, encourages people to express themselves through their attire. Karamo Brown, the culture guide, helps people confront and overcome their personal issues. Bobby Berk, the interior designer, transforms houses into homes that embody the essence of their occupants. And then there is Jonathan Van Ness, the grooming expert, who teaches people to love and care for themselves. Their combined efforts have made Queer Eye a beacon of pride in the queer community and the world at large.
Article continues below
---
---
BONUS: 32. Billy Porter 
Billy Porter, an American stage performer, pop singer, and actor, has been a prominent figure in the entertainment industry for over 30 years. His groundbreaking role as Pray Tell in the TV series Pose, a gay character living with HIV, as well as his fearless red carpet fashion choices, has made him a queer icon. 
BONUS: 33. Kristen Stewart
Renowned for her role as Bella Swan in the 'Twilight' series, Kristen Stewart became one of the most recognisable faces of the 2010s. Yet, it's her off-screen life that positions her as a noteworthy queer icon in this era. Openly identifying as bisexual, Stewart has used her platform to discuss her sexuality and advocate for LGBTQ+ visibility in Hollywood and beyond. 
In a ground-breaking move, she publicly came out in 2017 on 'Saturday Night Live', a bold assertion of her identity on a platform with millions of viewers. Stewart has continued to champion queer representation in film, often opting for roles that challenge heteronormative narratives. She starred in the movie 'Lizzie' (2018), playing a lesbian character, and directed 'Come Swim' (2017), a short film with queer undertones. Her activism extends beyond her professional sphere, with her active involvement in LGBTQ+ charities and events. 
Article continues below
---
---
BONUS: 34. Lil Nas X 
Emerging to fame in 2019 with his chart-topping single "Old Town Road", Lil Nas X, born as Montero Lamar Hill, has since become an outspoken, unapologetic figure within the LGBTQ+ community. In the same year of his meteoric rise, on the last day of Pride Month, Lil Nas X came out as gay on Twitter. This was a pivotal moment, as he became one of the most high-profile black artists to publicly identify as queer. The courage he displayed in this act of self-disclosure can't be understated given the rampant homophobia still prevalent in both the music industry and wider society. 
BONUS: 35. Sam Smith 
Sam Smith, the British singer-songwriter, has been open about their non-binary identity, making them one of the most visible non-binary celebrities in the music industry. Their raw, soulful music often touches on themes of love, loss and longing from a queer perspective, making their art deeply resonant with many in the LGBTQ+ community. 
Article continues below
---
---
Queer Icons Throughout the Decades
Enjoyed this piece about the incredible queer icons of the last 5 decades? We've got plenty more where that came from! Check out these deep dives into the vibrant LGBTQ+ history through every decade: