Top 10 queer icons in the 2010s // LGBTQ+ History
|
Updated on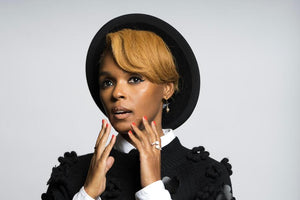 Pioneers of the 2010s: Breaking Barriers and Creating Change
The 2010s have been a pivotal decade for the queer community, featuring a host of notable individuals who have paved the way for greater acceptance, understanding and representation. These pioneers have not only made significant strides in their respective fields, but have also shown immense courage and tenacity in breaking barriers and creating change, thus becoming quintessential queer icons of this era. 
Article continues below
---
---
1. Laverne Cox 
Laverne Cox, an American actress and LGBT activist, has been a trailblazer in bringing transgender issues to the mainstream. Transitioning in a time when trans rights were barely discussed, Cox rose to prominence with her role in the Netflix series Orange Is the New Black, becoming the first openly transgender person to be nominated for a Primetime Emmy Award in an acting category. 
2. Elliot Page 
Widely renowned for his nuanced performances in films such as 'Juno' and 'Inception', Elliot Page has been a force to be reckoned with in Hollywood since the early 2000s. However, it was in the 2010s that Page truly emerged as a queer icon. Elliot Page came out as gay in 2014, and has since been an outspoken advocate for LGBTQ+ rights. 
His words were met with overwhelming support from both the LGBTQ+ community and allies alike, sparking global conversations about the realities of life as a queer individual in the public eye. Throughout the decade, he consistently used his platform to advocate for LGBTQ+ rights, addressing issues such as workplace discrimination, marriage equality, and transgender rights. His passionate advocacy and unwavering commitment to the cause have made him a beacon of hope and a symbol of pride for the LGBTQ+ community. 
In December 2020, Page publicly came out as transgender and non-binary, further solidifying his status as a queer icon. This announcement was met with widespread support, marking a significant moment in LGBTQ+ history and continuing to inspire countless individuals around the world. 
Article continues below
---
---
3. Troye Sivan 
South African-born Australian singer-songwriter Troye Sivan has been a beacon for young queer people worldwide since his public coming out on YouTube in 2013. His music often explores his experiences as a gay man, offering representation and validation to many LGBTQ+ youth. 
In 2018, Troye Sivan released his album 'Bloom' which features songs about his experiences as a gay man and has become a prominent LGBTQ+ advocate.
Unflinchingly authentic, Sivan's work is a testament to the power of visibility and representation in pop culture. He has leveraged his platform to advocate for LGBTQ+ rights, fostering a sense of pride and solidarity within the community. His courage and authenticity serve as an inspiration for countless young queer people navigating their identities. 
Indeed, the significance of Sivan's impact extends beyond his music. By openly discussing his queerness, he is challenging societal norms and stereotypes, thereby helping to reshape public perceptions of the LGBTQ+ community. This makes Troye Sivan an undeniable queer icon of the 2010s.
4. RuPaul Charles
RuPaul, a drag queen, actor, and recording artist, has made enormous strides in mainstreaming drag culture through the Emmy-winning reality competition show, RuPaul's Drag Race. His work has been instrumental in challenging and redefining societal norms surrounding gender and sexuality. 
Article continues below
---
---
5. Hayley Kiyoko
Known affectionately as the 'Lesbian Jesus' by her devoted fans, Hayley Kiyoko is an unstoppable force in the realm of queer pop culture. Blazing her trail in the 2010s, Kiyoko's bold and unabashed representation of her own sexuality through her music has earned her a place amongst the most influential queer icons of the decade. 
While her musical talent is indisputable, it's Kiyoko's dedication to visibility and representation that truly sets her apart. Her insistence on singing openly about her experiences and relationships with women was seen as a game-changer in an industry where queerness is often concealed or ambiguously presented. 
Her most popular songs, such as 'Girls Like Girls' and 'Curious', have been heralded as queer anthems, providing representation for LGBTQ+ youth, often underrepresented in mainstream music. In addition, her directorial work on her own music videos has been lauded for their authentic and nuanced portrayals of queer relationships and experiences. 
Moreover, Kiyoko's activism extends beyond her music. She is an outspoken advocate for the LGBTQ+ community, using her platform to challenge societal norms and fight for equality. In 2018, she received the Rising Star Award from Billboard, a testament to her growing influence and contribution to music and society. 
6. Tim Cook 
As the CEO of one of the world's most influential companies, Tim Cook of Apple Inc., made history when he came out as gay in 2014. Being at the helm of such a powerful corporation, Cook's announcement sent a powerful message about the visibility and acceptance of queer individuals in the corporate world. 
Article continues below
---
---
7. Ruby Rose 
Ruby Rose, an Australian actress, model and TV presenter, has been a fierce advocate for LGBTQ+ rights. Known for her gender-fluid style, Rose rose to international fame in the widely popular Netflix series, Orange Is the New Black, where she played the role of a queer prisoner. Her openness about her sexuality and gender identity, along with her activism, has made her a beacon of pride in the queer community. 
8. Janelle Monáe
Breaking boundaries in more ways than one, Janelle Monáe has crafted an illustrious career in music, film, and fashion. An iconic artist whose work transcends genres, she is a beacon of queer representation in the 2010s. Initially seen as an enigmatic figure, Monáe's announcement of her pansexuality in 2018 became a significant moment in the LGBTQ+ movement, proving, in her own words, "I am a free-ass motherfucker." 
Monáe's advocacy for queer rights, coupled with her unique artistic expression, has branded her as a pivotal figure in the fight for equality and acceptance. Her album Dirty Computer, released the same year as her coming out, is replete with queer themes and narratives. The album, a celebration of self-expression, became an anthem of pride for many within the LGBTQ+ community. 
"I want young girls, young boys, nonbinary, gay, straight, queer people who are having a hard time dealing with their sexuality, dealing with feeling ostracized or bullied for just being their unique selves, to know that I see you," she said in an interview with Rolling Stone. "This album is for you. Be proud."
Article continues below
---
---
9. Anderson Cooper 
Anderson Cooper, an esteemed journalist and television personality, announced his homosexuality in 2012. As a respected figure in the media landscape, Cooper's announcement was significant in breaking down stereotypes and fostering a more accepting environment in the news industry. 
10. Queer Eye Cast 
In 2018, five new faces stepped into the limelight as the new cast of Queer Eye: Antoni Porowski, Tan France, Karamo Brown, Bobby Berk, and Jonathan Van Ness. Each member brings a unique flavour to the show, combining their skill set and charisma to create a transformative experience for their subjects. Queer Eye is not just about makeovers; it's about changing perceptions, attitudes, and, fundamentally, lives. 
Let's delve into the roles of these queer icons. Antoni Porowski, the food and wine expert, inspires people to find joy in cooking and mindful eating. Tan France, the fashion guru, encourages people to express themselves through their attire. Karamo Brown, the culture guide, helps people confront and overcome their personal issues. Bobby Berk, the interior designer, transforms houses into homes that embody the essence of their occupants. And then there is Jonathan Van Ness, the grooming expert, who teaches people to love and care for themselves. Their combined efforts have made Queer Eye a beacon of pride in the queer community and the world at large.
Article continues below
---
---
BONUS: 11. Billy Porter 
Billy Porter, an American stage performer, pop singer, and actor, has been a prominent figure in the entertainment industry for over 30 years. His groundbreaking role as Pray Tell in the TV series Pose, a gay character living with HIV, as well as his fearless red carpet fashion choices, has made him a queer icon in the 2010s.
BONUS: 12. Kristen Stewart
Renowned for her role as Bella Swan in the 'Twilight' series, Kristen Stewart became one of the most recognisable faces of the 2010s. Yet, it's her off-screen life that positions her as a noteworthy queer icon in this era. Openly identifying as bisexual, Stewart has used her platform to discuss her sexuality and advocate for LGBTQ+ visibility in Hollywood and beyond. 
In a ground-breaking move, she publicly came out in 2017 on 'Saturday Night Live', a bold assertion of her identity on a platform with millions of viewers. Stewart has continued to champion queer representation in film, often opting for roles that challenge heteronormative narratives. She starred in the movie 'Lizzie' (2018), playing a lesbian character, and directed 'Come Swim' (2017), a short film with queer undertones. Her activism extends beyond her professional sphere, with her active involvement in LGBTQ+ charities and events. 
Article continues below
---
---
BONUS: 13. Lil Nas X 
Emerging to fame in 2019 with his chart-topping single "Old Town Road", Lil Nas X, born as Montero Lamar Hill, has since become an outspoken, unapologetic figure within the LGBTQ+ community. A young black man from Atlanta, Georgia, he made waves not just in the music scene, but also in the typically conservative world of country music, breaking down barriers with his genre-blending style. 
In the same year of his meteoric rise, on the last day of Pride Month, Lil Nas X came out as gay on Twitter. This was a pivotal moment, as he became one of the most high-profile black artists to publicly identify as queer. The courage he displayed in this act of self-disclosure can't be understated given the rampant homophobia still prevalent in both the music industry and wider society. 
His 2021 hit single, 'Montero (Call Me By Your Name)', and its accompanying music video tells a deeply personal and unapologetically queer narrative. The video, fraught with biblical imagery, has been both praised and criticised for its bold, unflinching representation of queer sexuality. In an industry that often erases or devalues queer love, Lil Nas X's 'Montero' stands out as a defiant act of resistance. 
BONUS: 14. Conchita Wurst
Emerging as an iconic figure on the global stage, Conchita Wurst, stage name of Austrian singer Thomas Neuwirth, carved a space for herself in the realm of queer icons in the 2010s. Wurst, a bearded drag queen, drew international attention when she won the Eurovision Song Contest in 2014 with her soul-stirring song 'Rise Like a Phoenix'. 
Wurst's impactful persona, coupled with her passionate advocacy for LGBTQ+ rights, firmly establishes her as a queer icon. Not only did she use her platform to promote acceptance and tolerance, but she also challenged traditional gender norms and perceptions. 
Her Eurovision victory, in itself, was a powerful statement. Wurst's win boldly challenged the heteronormative culture prevalent in many societies, and propelled conversations about gender and sexual orientation into mainstream discourse. It wasn't just about the crown – it was about breaking barriers and inspiring hope among the queer community worldwide. 
"We are unstoppable," Wurst declared in her acceptance speech, capturing the resolve and resilience that characterises not just her journey, but the broader LGBTQ+ struggle for acceptance and equality.
Her courage in disclosing her HIV status in 2018, in an effort to combat stigma and misinformation, further cements her status as a queer icon. By taking control of her narrative, Wurst shifted the conversation around HIV, moving it from hushed whispers to open dialogue. 
Article continues below
---
---
BONUS: 15. Halsey 
Flashing across the music realm like a comet, Halsey, whose real name is Ashley Nicolette Frangipane, has made remarkable strides in both her career and her advocacy for the LGBTQ+ community. This New Jersey native publicly identifies as bisexual and bipolar, openly discussing her experiences in interviews and her music. 
Her debut album, Badlands, released in 2015, showcased her unique blend of electropop and alternative music. The album was not just a commercial success, but also a vehicle for her to express her deep commitment to queer visibility. This commitment was underscored in her sophomore album, Hopeless Fountain Kingdom, in which she cemented her status as a queer icon by incorporating distinct queer narratives. 
"I'm a young, bisexual woman, and I've spent a large part of my life trying to validate myself—to friends, to family, to the world...to myself. But the thing is, that validity isn't derived from words. It's not about convincing anyone or even myself. It's about acceptance..." - Halsey
She is a vociferous critic of bi-erasure and has become a beacon of hope for many young, queer individuals grappling with their identities. Not only does she use her platform to speak on issues that matter to the LGBTQ+ community, but she also uses it to take tangible action. In 2017, she donated $100,000 to Planned Parenthood, emphasizing the importance of access to healthcare for all, particularly those from marginalized backgrounds. 
In her 2019 hit single, Nightmare, Halsey delivers a scathing critique of societal expectations of women and the female experience, further cementing her status as a powerful voice for those who often go unheard. Her determination to challenge norms, speak her truth, and uplift others makes her a definitive queer icon of the 2010s.
BONUS: 16. Lady Gaga 
Whilst she may be best known for her chart-topping hits and avant-garde fashion, Lady Gaga, born Stefani Joanne Angelina Germanotta, is equally celebrated as a fervent advocate for the LGBTQ+ community. Her advocacy, nestled within her artistry, has positioned her as one of the most influential queer icons of the 2010s. 
A self-identified bisexual woman, Gaga has consistently utilised her platform to raise awareness about LGBTQ+ issues. Her 2011 album 'Born This Way' resonated with queer audiences worldwide, its title track becoming an anthem of self-acceptance and pride. 
"No matter gay, straight, or bi, lesbian, transgendered life, I'm on the right track, baby I was born to survive"
In 2012, Gaga founded the Born This Way Foundation, a non-profit organisation dedicated to empowering youth and inspiring bravery. Through this initiative, she has tackled a variety of issues affecting the LGBTQ+ community, including bullying, mental health, and equality. 
Article continues below
---
---
BONUS: 17. Sam Smith 
Sam Smith, the British singer-songwriter, has been open about their non-binary identity, making them one of the most visible non-binary celebrities in the music industry. Their raw, soulful music often touches on themes of love, loss and longing from a queer perspective, making their art deeply resonant with many in the LGBTQ+ community. 
The Future of Queer Iconography
As we move into the future, it's pivotal to consider what the landscape of queer iconography will look like. The 2010s were, undoubtedly, a period of significant progression for LGBTQ+ representation, yet it is essential to recognise that this is not a destination, but a journey. With this understanding, it is expected that the next decade will continue to break boundaries and further diversify the representation of queer icons in the public domain. 
One crucial aspect of this anticipated evolution is the increasing visibility and recognition of non-binary and transgender individuals. Figures such as Laverne Cox and Elliot Page, who have both made significant strides in advocating for trans rights and visibility, are likely to pave the way for an ever-diverse array of queer icons. 
Article continues below
---
---
Indeed, this progression is expected to be not just about the quantity, but also about the quality of representation. No longer will it suffice to merely include queer characters or personalities; these depictions must also be nuanced, respectful, and true to the experiences of the individuals they represent. This, in essence, is the future of queer iconography. It's about creating space for queer voices to tell their own stories, in their own words, without the dilution or distortion often seen in earlier representations. 
Moreover, the growth of diverse media platforms will undoubtedly play a significant role in this evolution. The rise of digital media platforms, such as YouTube and Instagram, has already begun to democratise the representation of queer icons, providing a platform for voices that have often been marginalised in mainstream media. This trend is likely to continue, opening up new opportunities for queer expression and representation. 
The future of queer iconography looks promising. With a broader scope for representation and a more nuanced understanding of queer experiences, it's clear that the 2010s were just the beginning. The stage is set, and it's up to us, as a society, to continue pushing for better, more diverse representation of queer identities.
Queer Icons Throughout the Decades
Enjoyed this piece about the incredible queer icons of the 2010s? We've got plenty more where that came from! Check out these deep dives into the vibrant LGBTQ+ history through every decade: