Top 10 queer icons in the 1980s // LGBTQ+ History
|
Updated on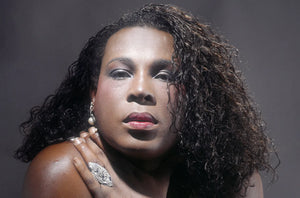 The 1980s: A Decade of LGBTQ+ Progress and Struggle
The 1980s was a decade of significant progress and struggle for the LGBTQ+ community. On the one hand, the period witnessed an increased visibility and acceptance of queer individuals in mainstream society. On the other hand, it was also marked by the devastating impact of the AIDS crisis and the associated stigma and discrimination. 
The 1980s marked a significant shift in the landscape of pop culture, laying the foundation for the rise of the queer icon. It was an era when the LGBTQ+ community, amidst the backdrop of the AIDS crisis and homophobia, began to assert their presence and influence in a more public and resounding manner. The decade witnessed the emergence of prominent queer figures who not only challenged societal norms, but also played an integral role in shaping popular culture. 
Article continues below
---
---
Top 10 queer icons in the 1980s 
The 1980s were a pivotal time in LGBTQ+ history, marked by both triumphs and tragedies. It was during this decade that the queer community began to gain visibility and recognition. Here is a list of the top 10 queer icons who, through their actions and contributions, have played a significant role in shaping the LGBTQ+ narrative during this era. Their courage, resilience, and unabashed pride have left an indelible mark on queer history. 
1. Madonna 
Madonna, also known as "Queen of Pop" herself, rose to fame in the early 1980s and became a significant figure in pop culture. She stood out not only for her innovative music and bold image, but also for her staunch support for LGBTQ+ rights. 
Madonna, a straight woman, was unique in her embrace of the queer community from the start of her career. She included drag queens, gay men, and lesbian women in her music videos and spoke openly about her friendships with queer individuals. These were not superficial actions, but genuine recognitions of the queer community, making her one of the first mainstream artists to do this.
2. Divine (1945-1988)
Divine, also known as Harris Glenn Milstead, was a trailblazer in the 1980s. Best known for his drag performances, Divine became an iconic figure within the queer community and beyond, breaking boundaries and challenging the status quo. 
Divine's audacious attire, combined with his unabashed pride in his queer identity, made him a symbol of rebellion in the face of society's rigid gender norms. He was, indeed, a queer icon of the 1980s. As an actor, he rose to prominence through his collaborations with filmmaker John Waters, starring in cult classics such as 'Pink Flamingos' and 'Hairspray'. He played characters that were outrageous, flamboyant, and unapologetically queer, thus championing the LGBTQ+ cause through his work. 
Article continues below
---
---
3. Martina Navratilova 
As one of the most successful female tennis players in history, Martina Navratilova was a force to be reckoned with. But it was her coming out in 1981 that gained her a place in queer history. By doing so in the highly scrutinised world of sports, Navratilova became a powerful symbol of courage and pride. 
4. Larry Kramer (1935-2020) 
Larry Kramer was a pivotal figure in the 1980s, particularly for his advocacy work during the HIV/AIDS crisis. As a co-founder of the Gay Men's Health Crisis and later ACT UP, Kramer's activism and literary works have had profound impacts on the queer community and beyond. 
Article continues below
---
---
5. Boy George 
Boy George, the frontman of Culture Club, was one of the most recognisable faces in the 1980s. With his androgynous style and open discussions about his sexuality, Boy George pushed the boundaries of what was considered acceptable, bringing queer visibility into mainstream media. 
6. Audre Lorde (1934-1992)
Renowned poet, writer, and activist Audre Lorde used her platform to address issues of race, gender, and sexuality. Her works, such as 'Sister Outsider', continue to inspire and challenge us, reminding us of the intersections of our identities. 
Article continues below
---
---
7. Elton John 
Already a successful musician by the 1980s, Elton John brought further attention to the queer community when he came out as bisexual in a 1967 interview. His continued success as a musician, philanthropist, and queer icon is testament to his perseverance and talent. 
8. Ian McKellen 
Renowned actor Ian McKellen publicly announced his homosexuality in 1988, during a radio debate on Britain's Section 28. His courage and continued advocacy work, particularly with Stonewall UK, have made him an icon within the queer community. 
Article continues below
---
---
9. Freddie Mercury (1946-1991) 
As the lead singer of Queen, Freddie Mercury was one of the most iconic figures in the music industry. His flamboyant stage presence and powerful vocals made him a queer icon, even though he was relatively private about his sexuality. 
10. Sylvester (1947-1988) 
Known as the 'Queen of Disco', Sylvester was an openly gay man who became an icon in the queer community for his unabashedly flamboyant persona and powerful music. He remains a symbol of liberation and self-expression. 
These individuals, through their actions, talents, and unabashed pride, have shaped the queer narrative in the 1980s and beyond. Their influence continues to inspire and empower LGBTQ+ individuals today.
Article continues below
---
---
BONUS: 11. RuPaul Charles 
Can it even be disputed that RuPaul Charles revolutionised the landscape of queer culture during the 1980s? This trailblazing drag queen turned recording artist, actor, and television personality significantly contributed to the visibility and acceptance of the LGBTQ+ community, particularly amongst mainstream audiences. 
The beginnings of RuPaul's career are rooted in the 1980s. He started in Atlanta's underground film and music scene, performing at local clubs. His first notable appearance was in the music video for the band Wee Wee Pole's 'Love Shack' in 1983. The later part of the decade saw RuPaul's move to New York City, where he became a popular fixture on the nightclub scene, garnering attention with his flamboyant outfits, quick wit, and unabashed self-confidence. 
It's worth noting that RuPaul's rise to fame was not just about being a drag queen. Rather, it was his ability to use drag as a medium to challenge societal norms and expectations about gender and sexuality. His mantra, "We're all born naked and the rest is drag," encapsulates his message of self-expression, individuality, and acceptance. 
BONUS: 12. Andy Warhol (1928-1987)
As a bonus, it would be remiss of us not to mention the indomitable Andy Warhol. Though his prominence began in the 1960s, Warhol's influence remained substantial throughout the 1980s, providing a significant source of inspiration and representation for the LGBTQ+ community. 
Warhol, known for his iconic pop-art and avant-garde movement, was openly gay at a time when it was exceedingly rare and risky to be so. He challenged societal norms and expectations, fearlessly expressing his queer identity through his art. 
Article continues below
---
---
AIDS and the LGBTQ+ Community: Remembering the Losses and Celebrating the Resilience in the 1980s
The 1980s was a tumultuous period for the LGBTQ+ community, plagued by the devastating AIDS crisis. The decade was marked by significant losses, yet it also bore witness to an impressive surge in resilience and solidarity within the community. This was a time of strife, sure, but not without its share of triumphs and queer icons who stood defiantly in the face of adversity. 
During this period, AIDS, known initially as 'Gay-Related Immune Deficiency' (GRID), was perceived as a 'gay plague'. The wider societal prejudice and government inaction that ensued only served to stigmatise and further marginalise the already oppressed LGBTQ+ individuals. Despite this, the decade saw the emergence of several queer icons who refused to be silenced, utilising their platform to raise awareness, challenge discrimination and fight for change. 
Queer Icons Throughout the Decades
Enjoyed this piece about the incredible queer icons of the 1980s? We've got plenty more where that came from! Check out these deep dives into the vibrant LGBTQ+ history through every decade: