Zaobao: Love and listen: how parents can accept their queer children
|
Updated on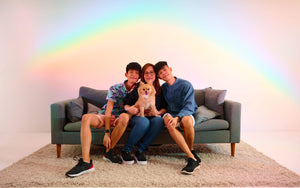 The original article "多聆听 少批判 用爱接纳出柜儿" was published by Zaobao on 26 June 2022. This is an English translation of the mandarin article. 
---
Reporter: Chen Ying Zhen (陈映蓁)
10 years ago, brothers Teo Yu Sheng and Teo Yu Siang came out to their mother in a handwritten letter. Through their letter, they gave her time to process the initial shock and understand the situation. With a deeper understanding of each other, the family became closer and stronger. 
It's inevitable that parents and their children have different understandings and opinions on delicate subjects. Good communication is key to sorting out these differences. By listening more and judging less, and giving each other the space to digest and process different opinions, differences can never be too big to overcome when a family is built on a strong foundation of love.
When it comes to delicate subjects, the way we approach them can make a world of difference, especially when it comes to discussions between parents and their children.
Twin brothers Teo Yu Sheng and Teo Yu Siang (30 years old) are grateful that their mother was willing to listen to them with an open mind, even though she, too, was struggling to come to terms with their sexuality. 
Article continues below
---
---
10 years ago, the brothers came out to their mother through a handwritten letter. They chose to write a letter to  ensure that they could properly express themselves, and also to allow their mother to process her thoughts and reply in her own time. 
"If we came out to our mum in person, misunderstandings could have happened because of how emotionally charged the conversation would have been; we could misremember or mishear what was said," says Yu Sheng. "Writing our thoughts down in a letter meant that she could read and re-read them as she thought things through. In the digital era, receiving a handwritten letter from a loved one also hits differently; there's a warmth and sincerity that can't be replaced."
More importantly, the brothers knew just how much their mother loved them. Even though, like most Asian families, they had never talked about sexual orientation, the knowledge of their mother's love gave the brothers the courage to come out to her.
"Our dad passed away when we were 15. We've always been close with our mum, and we knew that she would love and protect us no matter what. But we also knew that we had to give her some space to process her own emotions, and time to understand us," Yu Sheng says. 
Honesty is the most valuable facet of a parent-child relationship
Mrs Teo (59 years old) recalls having many questions after reading the letter. "Why is this happening? And why my sons? Is there a problem with my genes? Is it my fault? Will they face employment issues in the future? Are their prospects dimmer just because of this?"
But Mrs Teo didn't immediately barrage her sons with her concerns. Instead, she knew she needed time to sort out her thoughts. She calmed herself down, then texted them to ask for a week's worth of time to think things over before having a conversation as a family. 
"Our mum's reaction gave us a lot of relief," Yu Sheng says. "Sure, we were still worried over the course of that week, but her calmness and maturity gave us comfort."
A week later, Mrs Teo ran through all the questions she had with her sons. "They were very patient with me, explaining misconceptions, and teaching me about LGBTQ+ identities." 
That night, the Teos had a deep conversation, and the brothers shared their struggles and experiences of being closeted with their mother. Mrs Teo says that it broke her heart to hear about that. In her words, "I am thankful that they were willing to be so honest with me, and I knew that I would continue protecting and supporting them every step of the way." 
"Our mum only had questions and concerns, and no judgement. At the end of our conversation, I felt closer to my mum than I had ever felt before," Yu Siang says. 
As it turns out, Mrs Teo's concerns were unfounded. Yu Siang is now a senior product designer, and Yu Sheng has founded local queer brand Heckin' Unicorn. Yu Sheng has also worked with 3 other creatives in the "Rainbow Families" project, which aims to showcase queer families in Singapore through family portraits. 
Apart from birth families like the Teos, chosen families (non-biologically-related families) have also taken part in this photography project. During the photoshoot, Mrs Teo saw many such chosen families: queer folks who were rejected by their birth families due to their sexual orientation, gender identity, or gender expression, but who found their own family through friends and loved ones. She felt a tinge of sadness, but was happy that they had found groups of people they could call their own families despite the rejection they faced at home. 
Article continues below
---
---
Listening is the most important part in parent-child communications
Delicate subjects are tricky to handle, and on top of that, each family's situation is different. Speaking from experience, Mrs Teo emphasises the importance of communication. "Listen with your heart first. Try to understand where your child is coming from, rather than judge what they say. Ask any question you have, so you can understand them better." 
Mrs Teo also suggests that parents should give their children the space they need to figure out who they are. "If your child feels safe and free at home, they won't feel the need to hide who they are. Instead, they'll open up to their parents and come out to them. They might already be having a hard time hiding who they are in school or at work. Let them know that you care, so that they can at least be themselves at home."
Mrs Teo says, "It's a gift to be able to bring our children into this world. We have a responsibility to protect and love them. Many in society are still unwilling to accept the LGBTQ community; if they can't be accepted by the people closest to them, how can they be happy in life?"
"Love & Acceptance", the art exhibition organised by "Rainbow Families", has begun and will be held until 3 July. Admission is free.
Opening hours: 4pm to 10pm (Wednesday to Friday) / 1pm to 10pm (Saturday and Sunday)
Address: Projector X: Riverside, 30 Merchant Road, Riverside Point #04-13, Singapore 058282
Advisory: R18
---
---