What is the Rubber pride flag and what does it mean?
|
Updated on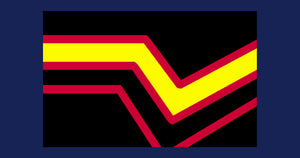 Rubber pride flag
While not representing any specific sexual orientation or gender identity, this flag represents the rubber or latex fetish subculture in the LGBTQ+ community. 
The flag was designed by Peter Tolos and Scott Moats in 1995. 
Meaning behind the flag: 
Black represents desire for the latex / rubber look and feel 
Red represents passion for rubber and rubbermen (a term used to describe gay men with a fetish for rubber) 
Yellow represents a drive for intense rubber play and fantasies 
The kink in the bands of colour represents the fact that rubber fetish is a kink 
Article continues below
---
---